Ed Fixen, President
cell: 909-636-9827
Mr. Fixen is the President of BusinessQuest, a Certified Business Broker, Certified Business Appraiser, president of the Los Angeles Chapter of California Association of Business Brokers (CABB) and on the Board of Directors of CABB. Ed has a diverse background with over 25 years experience as an executive manager for a Fortune 500 company, business owner and business broker. His experience and background includes but is not limited to expertise in business valuation and business brokerage in the manufacturing, business services, healthcare, wholesale/distribution, transportation/logistics and many other industries. Ed obtained his MBA from the USC Marshall School of Business and Bachelor of Science in Engineering from the University of Maryland. Ed is a licensed real estate salesperson and registered professional engineer in the State of California. Ed also authors the 'Business Marketplace' column for the Business Press, a weekly business journal. Ed's background, diverse blend of experience and qualifications make him uniquely qualified as a business broker to help business owners achieve their financial goals when selling their business.

Ron Varner, Director, M&A Services
cell: 310-200-5680
Mr. Varner is Director of M&A Services for BusinessQuest and a Certified Business Broker. His background and experience includes executive leadership as President, COO, CFO, and Vice-President for both publicly and privately held manufacturing companies; acquisition, investment, and crisis management consulting; and management and mentoring for startup and emerging technology companies, including major fundings. He has extensive expertise in business management, performance analysis, strategy and business planning, due diligence, business valuations, and communications. Ron is a licensed Real Estate agent, holds a BS in Industrial Engineering from California Polytechnic State University and received his MBA from the University of Southern California. He was named a Distinguished Alumnus by the College of Engineering, California Polytechnic State University and is a Registered Professional Engineer – State of California. He has served as a Director for Wilshire International, Van Vorst Corporation, Southern Cross Industries and California Tackle Company, Inc. Mr. Varner's experience and expertise uniquely qualify him as a business broker that can successfully work with buyers and sellers in all types of transactions.

Dee Khanna, Business Broker
cell: 909-553-1211
Mr. Khanna is a highly entrepreneurial and sales driven individual with extensive background in successfully starting and developing several businesses. His business ownership experience includes Wholesale/Distribution, Architectural Design Services, Real Estate Investments, Liquor Markets and Convenience Stores. He has experience with sales of several different type of businesses and understands both seller's and buyer's perspective while executing brokerage transactions.

Mr. Khanna is a licensed Real Estate Agent and holds a Bachelor's degree in Architecture. He has also obtained various certifications in project management and business process improvement. He has extensive experience in business management, business analysis, partnering, negotiations, sales and project management. His passion for businesses, his diverse experience as an entrepreneur and his attention to detail while handling business transactions will ensure you have a partner by your side during business dealings.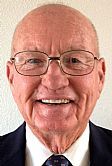 Bill Greenway, Business Broker
cell: 760-646-4335
Bill Greenway began his career as an aerospace engineer working on propulsion systems for the Apollo program. Bill has his Bachelor of Science in Engineering from UCLA and subsequently obtained his Master of Science in Mechanical Engineering from USC. Bill later changed careers to the construction industry after he obtained his contractor's license in both general and specialty fields and founded, developed and sold various construction and manufacturing related businesses. This background, as well as serving on the Board of Directors for construction-related trade organizations and obtaining his certifications for Mediation and Dispute Resolution, has positioned Bill to handle the many varied aspects of business sales and the art of negotiations. More recently Bill has specialized in manufactured housing and land development while obtaining his real estate license. The totality of these experiences enables Bill to work with many different types and sizes of businesses.

Christopher Ververis, Business Broker
cell: 714-398-3077
Christopher J. Ververis is a licensed Real Estate Agent, Business Broker, Licensed Property and Casualty Insurance Agent, and Former owner of an independent insurance agency in Connecticut. He is a business savvy professional with more than 25 years of business, management, and marketing experience. Whether buying or selling a business, Chris has strong persuasive and problem solving skills and will always treat his customers as if they were his one and only. He thinks "Outside of the Box" and finds solutions to difficult problems that may occur during a business transaction. He has a solid foundation for helping Buyers and Sellers understand the process and demonstrates a unique ability of his overall presentation skills. His familiarity with the area and a deep understanding of business ethics makes him an ideal partner when looking to Buy or Sell a business in Florida. In addition, from owning his own insurance agency and experiencing the sales process provides him the understanding of what Sellers and Buyers must go through when purchasing or selling of a business. Contact Chris today to learn more about how he can work with you to achieve your dreams. Services Offered: Mergers, Acquisitions, Business Valuations, Brokering Business, Business Development, Business Consulting, Franchise Prep, Franchise Purchasing , Prep for Selling of a Business.
Michael Mehegan, Business Broker
cell: 310-251-0069
Mr. Mehegan is a Business Analyst and a Business Broker for BusinessQuest Brokers, Inc. Mike has a B.A. in Criminal Justice from California State University, Chico. Mike is a licensed real estate salesperson in the State of California. He has background experience in the food and beverage industry, as well as transportation /logistics, and manufacturing. Mike's background qualifies him to help business owners achieve their financial goals that they have set when it comes to selling their business.